CHECKPOINT
Regarding the transport of animals in terms of national and international transport, the current EEC legislation 1/2005 on animal welfare requires a stop of a minimum of 12 hours. to a maximum of 24 h., after a transport period of 24 h.
COLLECTION CENTER
Our company is an assembly and market center in which equidae, cattle, sheep, goats and pigs coming from different companies are grouped together to make up lots to be delivered.
The structure covers a total area of 21,995 square meters.
| LIST OF SURFACES AVAILABLE | MQ |
| --- | --- |
| Paddock | 11.223 |
| Overall Covered Area | 1.410 |
| Area equipped with security, offices, services, parking, roads | 9.362 |
| Total area | 21.995 |
The facility has both a "control post" (animals parked for a minimum of 12 to a maximum of 24 hours) and a "collection center" [exit point] (animals intended for intra and extra EEC trade) .
The supervision of the manager as well as the veterinary service will always be guaranteed, and in this regard the structure will be equipped with the following equipment:
loading and unloading ramps for livestock;
carousel for cattle and buffalo;
corridors for cattle and buffaloes;
aisles for pig livestock;
electronic scales for livestock;
milking parlor with mobile milking machines;
calf with teats for infants;
infirmary for injured animals located in relation to the main structure;
room for carcasses awaiting disposal located from the main structure;
pig stables;
stables for cattle and buffaloes;
sheep and goat stables;
paddock of about 11,000 square meters;
barn;
two separate feed silos for pigs, sheep and goats and cattle and buffaloes;
sealed tank for sewage.
No. Assigned collection center: IT038BN289
No. Assigned checkpoint: CE / 24PC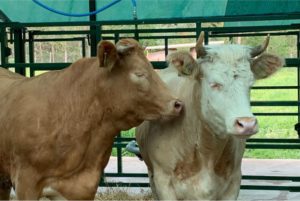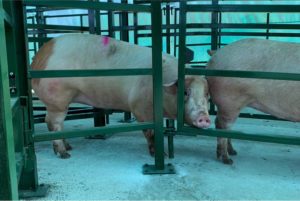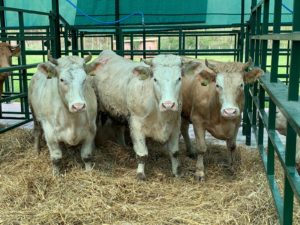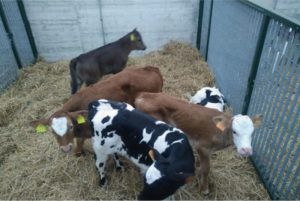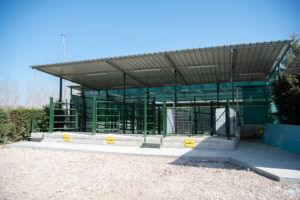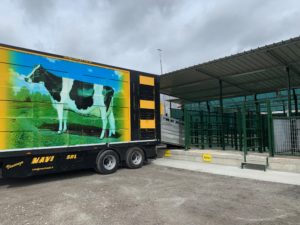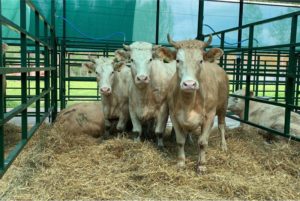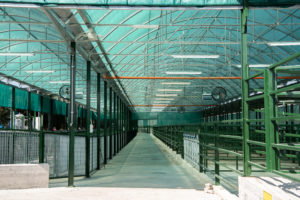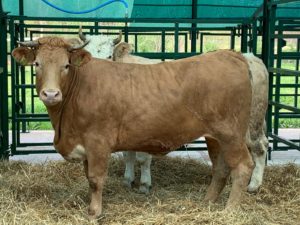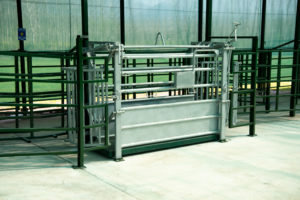 Specification of the maximum capacity per tunnel:
TUNNEL A – 240.000 MQ – PIGS
Weight
Category
Area cattle
N° cattle
30 Kg
Small
0.40
600
80 Kg
Medium
0.55
436
110 Kg
Big
1.00
240
TUNNEL D – 60 MQ
Infirmary
Carcasses
45 MQ
15 MQ
TUNNEL B – 670.000 MQ – BOVINE
Weight
Category
Area cattle
N° cattle
50 Kg
Small Cattle
0.40
1675
110 Kg
Medium
0.560
1116
200 Kg
Heavy
0.80
837
325 Kg
Bovine Medium
1.15
582
550 Kg
Big
1,40
478
> 700 Kg
Big dim.
1,50
446
TUNNEL B – 670.000 MQ – BOVINE
Weight
Category
Area cattle
N° cattle
50 Kg
Small Cattle
0.40
1675
110 Kg
Medium
0.560
1116
200 Kg
Heavy
0.80
837
325 Kg
Bovine Medium
1.15
582
550 Kg
Big
1,40
478
> 700 Kg
Big dim.
1,50
446
TUNNEL B – 240.000 MQ – HORSES
Category
Area cattle
N° cattle
Pony
1.08
620
Young
1.20
558
Foals
1.40
478
Adult
1.75
382
TUNNEL C – 111.223 MQ – GOATS
Peso
Categoria
Area cattle
N° cattle
< 26 Kg
Small goats
0.20
500
55 Kg
Sheep not shorn
0.35
285
60 Kg
Sheep in advanced gestation
0.50
200
55 Kg
Goats
0.55
181